Email
pastormatt@costamesafirstumc.com
Phone
657-294-5400
Address
420 W. 19th Street
Costa Mesa, CA 92627
Pastor Matt is a progressive, LGBTQIA+ friendly pastor who offers free pastoral care to everyone, regardless of their beliefs, background, or identity. He is a compassionate and non-judgmental listener who can provide support, guidance, and prayer.
If you are going through a difficult time, or if you simply need someone to talk to, he is here for you. He can help you navigate life's challenges, find meaning and purpose, and grow in your faith.
Matt's pastoral care services are confidential and free of charge. To schedule a session, please contact him at pastormatt@costamesafirstumc.com.
Here are some specific examples of how we can help you:
If you are struggling with a recent loss.

If you are facing a difficult decision.

If you are questioning your faith.

If you are struggling with your sense of well-being.

If you are an LGBTQIA+ person needing affirmation and support in a welcoming environment.

No matter what you are going through, Matt is here to support you. Contact him today to schedule a free pastoral care session.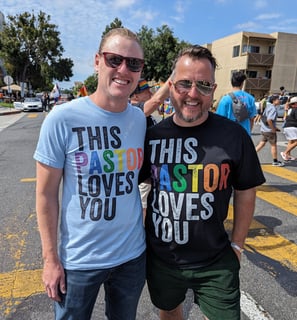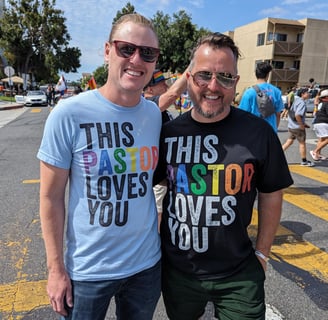 Pastor Matt and Pastor Brian at OC Pride